MODULE 1 - FIRST AID

Resuscitation Aid, Triangular Bandages, Crepe Bandages (2 sizes), Skin Closures, Wipes, large sterile adhesive wound dressings, knuckle plasters, sterile wound dressings (2 sizes), washproof plasters, sterile gauze swabs, sterile eye pads, fingercots, Watergel burn dressing, sterile eye wash pods, antiseptic dry powder spray, foil blanket, stainless steel forceps (2 styles), safety pins, nursing scissors, latex gloves, penlight, vomit bags, instant cool pack, and St. John's First Aid Manual.
This is packed in a specially designed easy access way with a product information guide, further advice on additional medicines that would be suitable to include e.g. analgesic, anti sea-sickness remedy, sunscreen etc and an order replenishment guide.
MODULE 2 - TREATMENT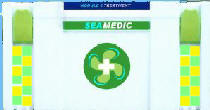 It has to be borne in mind that this module is intended to be purchased with MODULE 1 if extended deep sea cruising is envisaged. This would necessitate a larger vessel and more crew. There would also be a need for longer treatment until assistance is available. Thus some items are repeated from Module 1 as additional quantities would be needed. Guidance for use of some of the items and particularly the medicines that should be obtained should be sought form the Shipís Captainís Medical Guide.
Contents:
Emergency Dental Kit, Gauze swabs, tubular finger gauze bandage, crepe bandages (3 sizes), elastic adhesive bandage, surgical tape, skin closures (2 sizes), sterile adhesive wound dressings, knuckle plasters, sterile wound dressings (2 sizes), washproof plasters, Watergel dressings (2 sizes), sterile eye and wound wash spray, plastic spray dressing, Coolgel, latex gloves, vomit bags, instant cool packs, body fluid disposal kit.
Also included is DEET insect repellent (60%) antiseptic aqueous solution, hydrogen peroxide, sodium bicarbonate, rehydration sachets.
A list of suggested medicines available via a Medical Practitionerís order and an order replenishment guide are included.
MODULE 3 - EQUIPMENT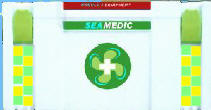 This module has been designed to cope with the surgical needs when on extended voyages.
Contents:
Laerdal Mask and other Guedal airways, gauze swabs. Conforming bandages, thermometer, Malleable splint sets, Universal Neck collar, plastic sheeting, disposable towel roll, sterile medical pack of syringes needles, giving set, sutures etc in a belt pouch capable of being taken ashore for expeditions etc, needle collector, razors, haemostatic clamp, scalpels and burn cling film (glad wrap).
An order replenishment guide is included,
MODULE 4 - SUPPLEMENTARY MEDICINES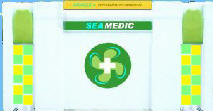 For extended voyages there has to be the ability to diagnose and treat many minor ailments, serious conditions and accidents possibly for lengthy periods. Using the MCA regulations in conjunction with the Shipís Captainís Medical Guide we have prepared a list of medicines required. These medicines will need to be obtained via a prescription or signed order from a medical practitioner. Please be aware that laws governing supply of medicines differs from jurisdiction to jurisdiction and local advice may be necessary. This is especially the case if Controlled Drugs such as Morphine are required. Import and export licences may also be required.
Therefore Module 4 contains the recommended list and the requisition letter. The modular box and tray inserts are available to hold the contents once obtained.
Disclaimer:- Whilst the contents of these modules are correct at the time of publishing, Blue Water Supplies and The First Aid Pharmacist reserve the right to alter or substitute any or all of the components without notice. Under normal circumstances changes will constitute improvements. In any case every effort will be made to maintain the quality and suitability of all components so that the module is of a similar or improved standard to details published.
CODE

Description

Modules
1
2
3
4
ARC

Module Boxes etc.
FES445433
SeaMedic Box Small (Module 1) with Lid Panel
P
FES445434
SeaMedic Box Med (Custom) with Lid Panel
FES445596
SeaMedic Box Lge (Modules 2,3 & 4) with Lid Panel
P
P
P
P
FES445597
SeaMedic Box X-Lge (Custom) with Lid Panel
PVC1
SeaMedic Shelf Panel
P
P
P
P
P
VEL1
Velcro Securing Kit
P
P
P
P
P

Books
MED0030
Ships Captain's Medical Guide
FA1
First Aid (St John's Ambulance Guide)
P
Individual Components
SMD7889B
Sterile Eye Pad
P
SMD7776
Washproof plasters (20asstd)
P
P
P
SMD3936
Triangular Bandage
P
SMQ2100
Safety Pins (6)
P
SMD5217
10 Moist Wipes
P
MD7631
Medium sterile dressing 12 x 12 pad
P
P
P
SMD7632
Large sterile dressing 18 x 18 pad
P
P
P
SME401S
5 x Sterile Eye Wash Pods (20ml each)
P
SMA501
Resuscitation Aid
P
SMA301
1 x pr Vinyl gloves
P
P
P
SMD3980
Crepe bandage 5cm
P
P
P
SMD3981
Crepe bandage 7.5cm
P
P
P
SMD3982
Crepe bandage 10cm
P
P
SMD4708
Skin closures small
P
P
P
SMD4710
Skin closures large
P
P
SMD7279s
Knuckle plasters each
P
P
P
SMD7135s
Primapore wound dress sm
P
P
P
SMD7871
1 x 5 sterile gauze swabs
P
P
SMM6480
Savlon Dry Powder Spray
P
P
SMQ2290bks
Instant ice pack
P
P
P
SMD8035
Box fingercots asstd
P
SMD8090
Watergel Burn Dressing 5 x 15
P
P
P
SMD8092
Watergel Burn dressing 10 x 40
P
P
SMQ2220
1 pr nursing scissors
P
P
SMQ2090
Pointed forceps stainless steel
P
SMQ2091
Blunt forceps stgainless steel
P
SMQ2270
Penlight
P
P
SMQ2023
Foil Blanket
P
SMQ2280s
Vomit Bags
P
P
SMQ3014
Emergency Dental Kit
P
P
SME441
Sterile Eye wash and Wound Wash Spray
P
P
SMD3939
Tubegauz finger bandage + Applic
P
P
SMF11234K
Elastic adhesive Bandage 7.5cm x 4.5m
P
SMD4703
Micropore 2.5cmx 5m
P
P
SMD3792
1 x 100 Gauze swabs
P
P
SMM6450
Plastic Spray Dressing Opsite
P
P
SMR394
Body Fluid Disposal Kit
P
SMM6786
1 x Coolgel bottle for burns or Burngel
P
P
SMA525
Laerdal Mask
P
SMA514
Guedal Airways Size 3
P
SMA515
Guedal Airways Size 4
P
SMD3991
Conforming bandage 7.5cm
P
SMQ2260
Thermometer
P
SMQ3010
EuroSplint
P
P
SMQ2346
Wizloc Universal Immobilisation neck Collar
P
SMQ3015
Magnifying Glass
P
SMQ2150
Nail brush
P
SMQ3007s
Waterproof plastic sheeting 1m x 2m
P
SMQ2070e
Disposable paper towels or roll
P
SMK363
Sterile Medical Pack in Pouch
P
P
SMQ2057
Sharps needle Collector
P
SMQ3016
Disposable razors
P
SMQ2088
Haemostatic Clamp (e.g. Spencer Wells Forceps)
P
SMQ2216s
Disposable Scalpel Sterile and blade lge
P
P
SMQ2217s
Disposable Scalpel Sterile and blade sml
P
P
SMQ3017
Cling Film
P
SMD5186s
Injection Swabs 10
P
SMQ3022
Catheter foley 16ch 10ml
SMM6327
DEET mosquito repellent in liquid form (Mijex)
P
SMM70525
HIBISCRUB Solution for antiseptic
P
SMM7013
Hydrogen Peroxide 20vol 250ml
P
SMM7014
Sodium Bicarbonate for stings
P
SMM7006
Rehydration sachets Ė dioralyte
P